bester broker binäre optionen test Angels & Outlaws
Cal-Maine Foods, Inc.
Capital Farm Credit
Guadalupe-Blanco River Authority
Guadalupe Valley Electric Cooperative
Gonzales McDonald's / Wezeman, Inc.
Holmes Foods, Inc.
Kevin Pirkle
Lindemann Fertilizer Service Inc.
Post Acute Medical
Puff N Snuff
SouthStar Bank
State Farm Insurance-Scott Dierlam Agent
Texan Nursing and Rehab of Gonzales
Texas Hatters
Tri-City Distributors LP
TSG Architects AIA
Victoria College- Gonzales Center
Vendor Booth Application Form
Photography Contest Entry Form
Texas T-Bone Cook-Off Entry Form
Festival Sponsorship Packet
Parade Entry Form
The deadline to apply for a parade entry has expired. Please check back for next year's application!
Gonzales County Area Go Texan Washer Tournament
Grab your buddies and sign up for our washer tournament, brought to you by Gonzales County Area Go Texan!
Chili & Bean Cook-Off Entry Form
Download the rules and schedule, and make plans to join our Chili & Bean Cookoff, happening the Sunday morning of Come & Take It.
Come & Take It Canoe Race
Plan to participate in this fun, outdoor event brought to you by the Come & Take It Association and Guadalupe-Blanco River Authority.
Classic Car Show Entry Form
Enter your favorite ride in this annual contest hosted by the Gonzales Classic Cruisers. Compete for Best of Show or enter in one of 28 classes.
Chicken Flying Contest Entry Form
Be a part of one of the most entertaining contests of Come and Take It! Bring this form and and entry fee to Come and Take It. Only the first 40 entries will be considered.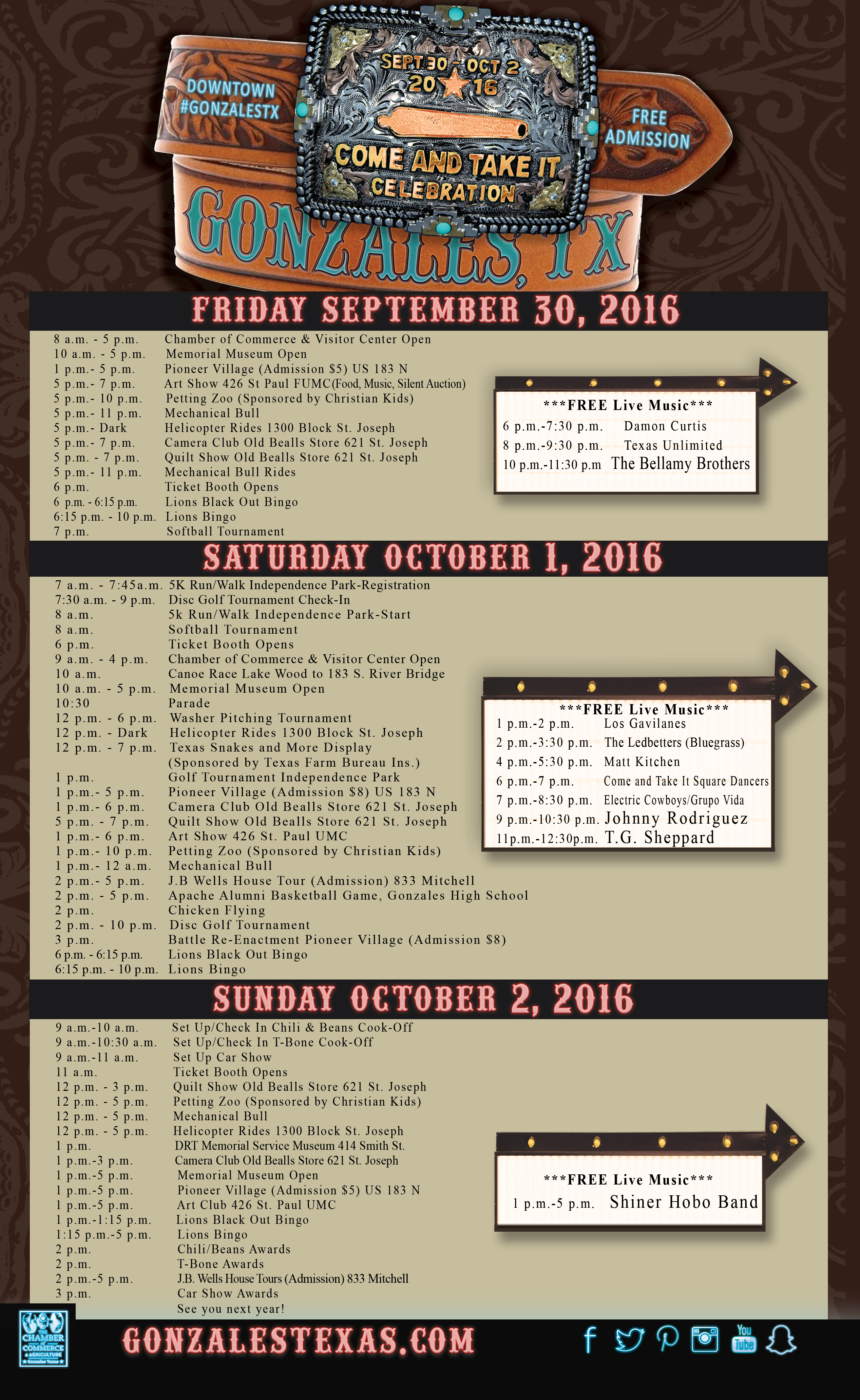 The History of Come and Take It
The Come and Take It Celebration commemorates the firing of the first shot of the Texas revolution on Oct. 2, 1835, which took place near Gonzales. Come and help us celebrate history with the firing of the first shot!
The town of Gonzales was established by Empresario Green DeWitt in 1825, two and one-half miles east of the confluence of the San Marcos and Guadalupe Rivers. It was the westernmost Anglo settlement until the close of the Texas Revolution and was named in honor of Don Rafael Gonzales, provisional governor of Coahuila, Mexico and Texas. The town was laid out in the shape of a cross, with seven squares. During the colonial period of 1825 to 1835, there were many problems with Comanche and Tonkawa Indians, but Gonzales flourished. It was the thriving capital of the DeWitt colony by 1833. In 1831 the Mexican government loaned the citizens of Gonzales a six-pound cannon for protection against the Indians. In September of 1835, as political unrest grew, Mexican officials at San Antonio de Bexar demanded the cannon be returned. A corporal with five soldiers and an oxcart were first sent by Col. Ugartechea, Bexar military commander, to Gonzales. The corporal carried a request that the small reinforced cannon, a bronze six-pounder, be returned to the Mexican Army. Andrew Ponton refused to relinquish it, stalling for time, the little cannon was buried in George W. Davis' peach orchard, near the Guadalupe River.
Lieutenant Castaneda and 150 mounted soldiers were sent to "take" the cannon. When the soldiers appeared on the west bank of the Guadalupe River, there were only 18 men in Gonzales, but these 'Old Eighteen' stood at the river in defiance, denied the Mexicans a crossing by hiding the ferry and sent out a call for volunteers to assist them. As the soldiers scouted the river for a place to cross, they moved upriver a short distance, near the present-day community of Cost and camped for the night. There, in the early-morning hours of Oct. 2, 1835, the colonists crossed the river with their cannon, surprising the troops and waving their hastily fashioned flag, which proclaimed "Come and Take It." Almost immediately the cannon was fired, killing one of Castenada's men and scattering the rest, forcing them to retreat to San Antonio de Bexar. Thus was fired the shot that set off the struggle for Texas independence from Mexico. When the smoke cleared, the Mexican troops had taken off. The Texas Revolution had begun. Gonzales became known as "The Lexington of Texas", where the first shot was fired, and where the first Texas Army of Volunteers gathered. A few months after the first shot, men and boys from the region would gather in Gonzales, sending the only reinforcements ever received at the Alamo. Each October, on the first full weekend of October, the citizens of Gonzales gather to celebrate their Texas heritage in a three-day festival called "Come and Take It."